The Research WizardTM is a powerful, yet easy to use, custom stock screening program. It's ideal for identifying new buying opportunities, monitoring and ranking the stocks in your portfolio and backtesting them for performance.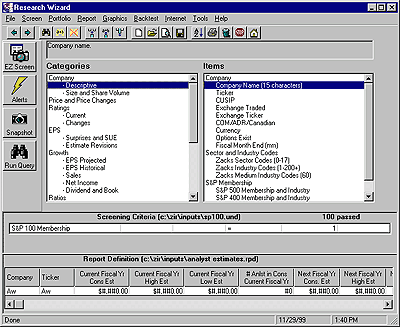 Research Wizard 4.0 combines the best of two worlds: software that resides on your computer and data (both current and historical) accessed by the internet via Zacks servers, saving you time and disk space. (You also have an option to work in the off-line mode too, so you can use it anywhere.)
The Research Wizard package also includes intraday price and volume data, intraday EPS surprises and short term price targets.
With the Research Wizard, you can:
Screen and report on over 8,500 stocks using any of over 650 data items and an unlimited number of custom calculations to pin-point winning stocks.



Pick and choose from over 50 predefined screens that Zacks has already created or create and save your own screens to generate and update lists of possible new investment opportunities.



Examine and monitor the fundamental characteristics of current holdings or search for new additions to your portfolio.



Access pre-configured, multi-company reports, as well as reports you can create, modify or customize on your own. And easily export the data to other applications such as Excel.



Stay informed with reports that alert you to price-driving events, affecting the stocks in your portfolio (i.e. changes in brokerage analyst EPS estimates, changes in brokerage firm recommendations, EPS surprises and short term price targets).



Backtest and view statistics on your screen's performance over a whole myriad of different time intervals and compare it to a benchmark (such as the S&P) over time.



Know ahead of time, before you invest, how your stock picking strategy has fared. You may be surprised. And regardless of how good or bad your strategy has proved to be, the information can help you make the necessary changes to increase your returns and lower your risk.