And now, for a LIMITED TIME ONLY, you can get it for ONLY $299
Regularly $1,500 yr., it's now being offered in a special limited promotion to:
-- Current, Renewing and New,
Research Wizard Subscribers
for ONLY $299
Detailed Estimates - See the flow of estimate revisions and recommendations from over 300 brokerage firms plus individual analyst's track record.
Get the latest information on individual broker recommendations, annual and quarterly EPS estimates and revisions, analyst Consensus, and Zacks' Ratings for over 6,500 companies. You can also see the Analyst's Track Record and and the Historical Ratings of the Analysts.
If you're a Current RW Subscriber, you know how powerful the Research Wizard is. Take advantage of this special ICA offer and increase your stock picking power to a new level.
If you're a soon to be Renewing RW Customer, renew NOW and take advantage of this limited time promo.
And if you're thinking about becoming a New Research Wizard Subscriber, act NOW and get started today. There's never been a better time!!!

Zacks Snapshot Reports - A one page, full color report, displaying all of the key decision making info., in one easy to read report. It features: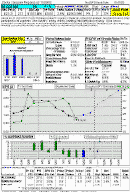 click for here for details